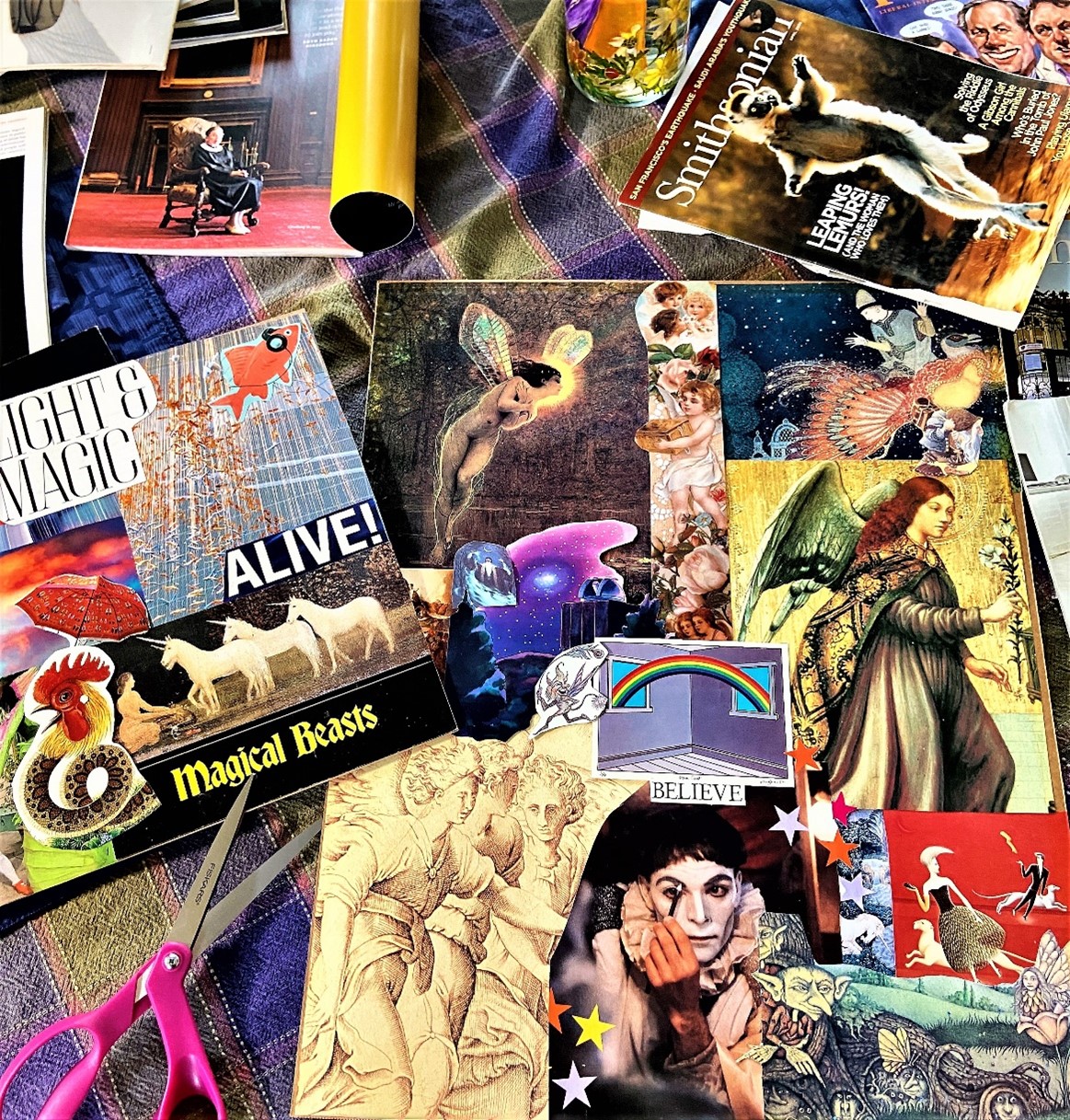 The Scraps of Living
Sometimes the fabric of our lives is made out of paper. Paper gathered from magazines with striking and vibrant colors of red and yellow or gray and black silhouettes, paper from old calendars adorned with fine art sold to the masses, paper from greeting cards with birthday or holiday well-wishes. Paper that speaks to me and then pulls me in at the moment of discovery for unexplainable reasons.  These pictures and words will soon be melded together to create something bigger than their individual images.
Open magazines and old calendars spill across my table and I begin an exploration into the depths of my soul beyond the gates of my conscious mind.  I cut out a fish with headphones, a costumed man with a wild look on his face. a mime applying make-up, a rainbow adorning a window, the letters spelling out "Clean," and mythical creatures that have no discernable connection to each other. I just cut and stacked until I have enough material to try and make sense of the mess I have created. Like a filmmaker who shoots days of video for a 90-minute film, many of the images will literally land on the cutting room floor – or tucked away for future works.
I started making collages when I was in my early twenties from a place of pure boredom. I was living in a rented apartment on 1st Street in Long Beach, California. The apartment was advertised as having an ocean view. If you stood on your tippy toes and stretched your neck to look out of the northwest corner of the upper pane of the window, you could catch a glimpse of the expanse of the sea. When not standing on your toes, the apartment offered a continuous scent of the sea as the breeze wafted through the perpetually opened windows and clattered the wooden blinds ever so slightly.  That prime location didn't come cheap. My roommate and I had just moved out west from Ohio in search of the Beach Boys' promised California dream. Of course, we also were very intrigued by the "Hotel California" that you could check out of but never leave. The stars in our eyes didn't live on Hollywood Boulevard. Our plan was to soak up the sun, have lots of fun, and gather experiences like my grandmother used to gather miniature figurines. Except hers sat on a shelf and ours lived in our hearts. Those experiences definitely had to include living within walking distance to the beach even if it cost us every dime we had. That meant we didn't have money for a TV or a stereo or much in the way of entertainment at all.  It also meant that I had a lot of open evenings with not much to do. So, I decided to use the photographs from our travels – back then they were actually printed – and create a collage depicting our adventures and display the memories annotated with clever sayings cut from magazines and newspapers. The places we had seen – deserts and steamboats, mountains and rivers, bikers and waitresses were material that should not be hidden in boxes underneath the bed. Snipping a photo to accent a mountain peak covered with shiny white snow or carefully rounding the edges of a photograph of a desert vista that stretches to eternity dotted with cacti reaching up to the sky or scenes of riding Harley Davidsons through the morning rain and merging these disparate images into a greater whole was thrilling. "Wow", "Crazy Fool", "Hello Beautiful", were words carefully cut and placed over the photos. It was a masterpiece, a work of art. A statement about my life. Four feet by four feet, it traveled with me through the years to new homes, through joy and marriage and children and so much heartache. Although, after 40 years it has since fallen apart, the art form it awakened in me is still intact.
It was the heartache that brought me back to creating collages. I needed a way to process and make sense of my life. I was a thirty-six-year-old widow with two young boys to raise when I moved to Spokane, Washington. One lonely and sad night, I pulled out my scissors and started cutting pictures from magazines. The blades glided through the paper making precision outlines for the stars that called to me and reminded me of the great expanse of the cosmos. The straight cut of that brilliant rainbow stretching across a barren room through open windows with the word BELIEVE strategically placed beneath it told me to believe in the magic. As I poured over magazines, I extracted anything that caught my attention. I didn't question why I was cutting out that fish with headphones or that costumed man with a wild look on his face. I just cut and stacked. The word ALIVE had to be included – I needed to remember that I was still alive.  I let my subconscious mind guide me. And then from the chaos of the random images and words, I created a cohesion that made sense to me. And most likely, only me. I revealed something hidden from my conscious mind. I revealed my need to believe in magic, my need to embrace the impossible and unexplainable, my need to remember that I was alive and there was still music to hear and swimming to do. Collages dot my walls and every one of them reflects a state of mind that has since passed but is still very much a part of my soul – maps of discovery into who I was, who I am, and who I have the possibility to be.
All that from a pair of scissors, a stick of glue, and discarded paper.
Examining the scraps of life can bring undiscovered insights to understand who we are at our core. Who we are is a mystery that we can spend a lifetime uncovering and in truth, is the only real pursuit worth our energy. It is only in understanding our uniqueness and using that to step into the world to contribute to the overall fabric of life…………………………….